"Napalm Dreams"
---
I woke from a terrible vision
with images of flying debris and dancing fire in my head.
Stampedes of people shepherd by panic,
school buildings full of kids lit aflame,
families huddled in their shelter
while the sky turns to crimson.
They all melted together in a rush,
so I hunkered down with my *** in the air,
my head in the barracks,
the siren screaming to anticipate the falling bombs

I now stand in file to see the shrink,
explaining the horror in my head.
From the landmine field in my cerebellum, to the imploding
torpedoes piercing my frontal lobe.
I asked what it all means
being terrorized by these napalm dreams

"Boy, don't you pay attention to the news?" he questioned,
"Same thing is happening on the T.V.!"
I just shrugged my shoulders like a naïve youth and his
diagnosis was a career in the military.

They buzzed my hair and taught me
how to march, shine mirrors into my boots and
care for my M16 like a dainty
lover. I graduated from the plastic imitations and
now play war with the real thing!

My home, my office, my life is in a dirt bunker
with no reason to awake from gruesome dreams
while this alien land burns all around me.
I huddle in the mud with my metal lover,
My eyes are shut but not to sleep,
praying this all was a napalm dream.

The general stood before me,
a square-jawed monument of valor.
Sheepishly I questioned
what all this fighting meant.
To follow behind him without reason
other than to watch death claim all men.
His only response was a confused stare.

Now I stand and await my trial
for squeezing my love tight but never the trigger.
I pleaded my case only to receive
the scolding scorn from the judge before me.
"Why ask such stupid things?" he said with a roar
"Such questions are immoral for war!"
And then he revealed for only my ears
"To make war is to toil in confusion,
without this there'd be no purpose"

Now I stand against the wall,
my eyes see nothing but my ears hear all.
The rolling drums cease with a sudden beat.
A thunderous clap follows and searing metal teeth
bite into my arms, my stomach, my throat.
The warmth flowing out allowed me to finally rest,
knowing that I've been cured of these napalm dreams.
__________________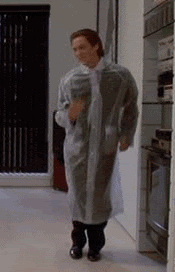 "Imagination is more important than knowledge. Knowledge is limited; imagination encircles the world!" - Albert Einstein
"Political language is designed to make lies sound truthful and murder respectable, and to give an appearance of solidity to pure wind." - George Orwell
"I don't mean to sound bitter, cold or cruel, but I am. So that's how it comes out." - Bill Hicks
"It's called the 'American Dream' because you have to be asleep to believe it." - George Carlin